About Moviesoundclips.net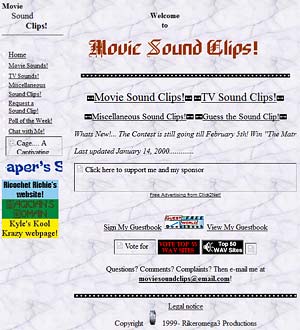 I registered the Moviesoundclips.net domain back in 2003, but the website has been up and running in various forms since 1999. In what started as a class project, Movie Sound Clips has now grown into a veritable empire of sound.
I originally started Moviesoundclips.net on Netcolony, a Geocities clone at the time. Around March of 2000, I moved to one of those free domain services, since I wanted to have a friendlier website address.
I finally broke down and bought the registered the domain in August of 2003, and the rest is history.